About Chance for Children: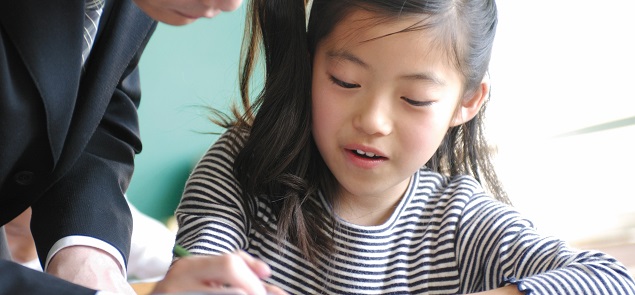 Founded in 2011, Chance for Children (CFC) is committed to eliminating disparities in child education caused by family income inequalities and ultimately breaking the cycle of poverty for generations to come.
In Japan, one in seven children lives under the poverty line. Its child poverty rate is higher than the average of the Organization for Economic Cooperation and Development (OECD) participating countries.
It is devastating that economic and education disparities have widened after the COVID-19 pandemic at an unimaginable rate. We must face what is happening and take swift action for our children who drive the future of Japan.
Child Poverty Rate in OECD Countries (2016)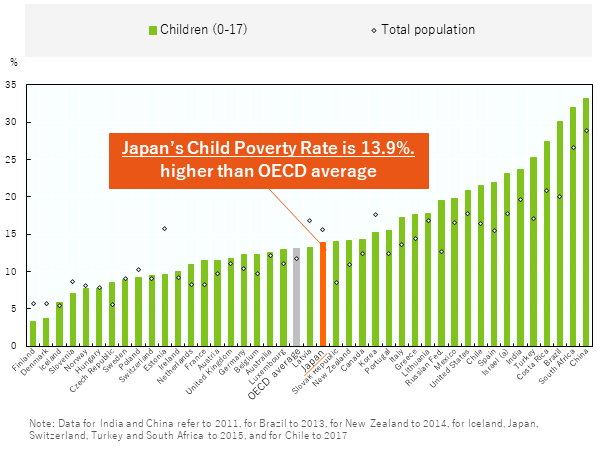 ---
Why we do it: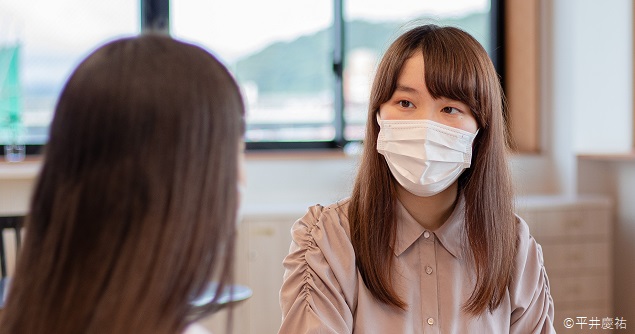 There is an undeniable relationship between household income and family spending on after-school education for children. This chart tells us that children growing up in low-income households have three times fewer educational opportunities than peers from high-income households. Such disparities may negatively affect the child's future academic and occupational paths.
Relationship between annual household income and spending on out-of-school education (In the case of 9th grade students)
Advancement into College
(Comparison between welfare recipients and other households)

Academic Performance of Children
(Comparison of 6th graders across annual income buckets)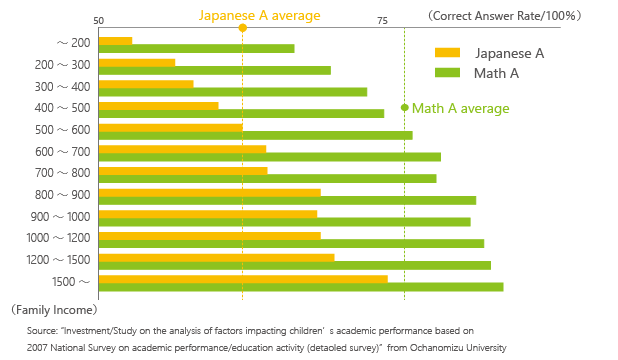 This pie chart shows that more than 60% of spending on education is allocated to after-school programs. The average spending for middle school students is over 300,000 yen (=$2,500–⁠$3,000) per year, which is significant and can be a financial burden for some families. This trend is strongly seen in Japan and other East Asian countries due to the structure of the college admissions system. Regardless, it is apparent that the gap in educational opportunities has been growing for after-school hours.
Educational Spending for Average Middle-School Students (Public School)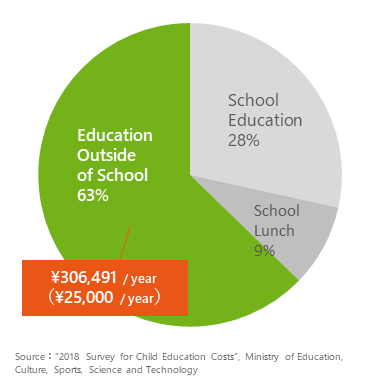 ---
What we do:
CFC believes that all children should have access to after-school programs that meet their interests and special needs, including tutoring schools, arts & crafts, music, sports, and nature programs, regardless of the environment they are born to financially and geographically.
With funds being raised through donations from individuals, corporations, and foundations, CFC provides financial and advisory support to disadvantaged children.
Financial Support
Study Coupons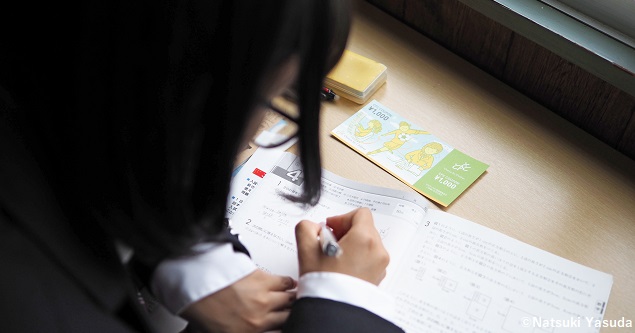 About CFC's Study Coupons (vouchers)
・Limited to the use for child education; they may not be used for other purposes, such as the purchase of daily essentials.
 
・Issued to ensure various educational activities for children to choose from and support individual growth.
 
・The child's financial standing will be kept discreet while attending the same programs as other children without financial issues.
Advisory Support
Brothers & Sisters

 
・College student volunteers, a.k.a., Brothers & Sisters, regularly communicate with children to listen to their concerns about school life, learning in general, future paths, and occasionally family matters. Building such relationships helps to create a comfortable environment for children to speak up, and leads to ensure that the coupons can be used effectively.
 
・Brothers & Sisters have the potential to be role models to inspire children and bring out their potential.
  
・CFC works with Brothers & Sisters and closely monitors any difficult cases. When necessary, CFC staff members connect children and their families to other NPOs and government services for further assistance.
 
・Training workshops and lectures by experts, such as clinical psychologists, are provided to Brothers & Sisters to attain proper knowledge to communicate with children in need.
---
Where we serve:
1. Tohoku area
Mainly Miyagi, Fukushima & Iwate prefectures, devastated by the Great East Japan Earthquake in 2011.
2. Kansai area
Mainly Osaka, Hyogo & Kyoto prefectures.
3. Tokyo area
Areas hit hardest by the COVID-19 pandemic.
4. Wherever natural disasters occur in Japan, whenever possible
---
Support Now!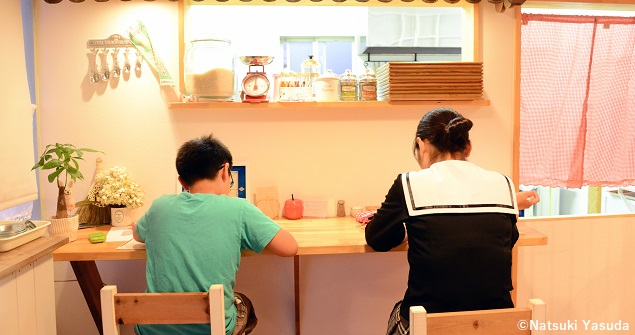 As every child is different, so are their learning needs. CFC aims to create an inclusive and diverse society where all children can shine.
Thanks to the generosity of our supporters, we have provided support to over 3,700 children (from grade 1 to 12) in Japan since its foundation, with 1,700 learning facilities participating in the program. We are truly grateful for your consideration in supporting children in need!
---
How to support: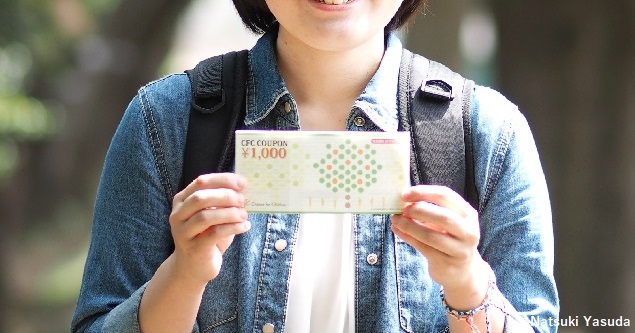 Individual
・Become an individual member
・Make a one-time donation
Corporation/Institution
・Become a corporate member
・Make a one-time donation
Supporter's Benefits:
Individual
Member
One-Time Supporter
A letter from one of the children
✓
Invitations to online
members-only event
✓
Contribution of 10,000 yen
& above Only
E-newsletters
✓
✓
Annual Report
✓
✓
Corporation/Institution
*No difference in benefit between Members and One-Time Supporters
100,000-299,999 yen
300,000 yen & above
Letter(s) from the child(ren) addressed to supporter companies and institutions
✓
Invitations to
members-only event
✓
✓
E-newsletters
✓
✓
Annual Report
Logo & Name Recognition
Website
Name Recognition
Logo & Name Recognition
*The benefits are subject to change at anytime at the reasonable discretion of Chance for Children.
Notes:
・All donations are tax-exempt.
・All publications are in Japanese.
・CFC is one of the institutions that the Cabinet Office of the Government of Japan authorizes to recommend awardees of the Medal with Dark Blue Ribbon. Individuals who contribute over 5,000,000 yen and Corporations who contribute over 10,000,000 yen are eligible for a recommendation. For more information, please visit the website of the Cabinet Office of the Government of Japan or contact us at info@cfc.or.jp.
・Current List of Corporate Supporters
・See here for further information.
・Contact us for any questions you may have at info@cfc.or.jp .